---
MERGING+PLAYER
BEST SOUND + BEST ERGONOMICS
---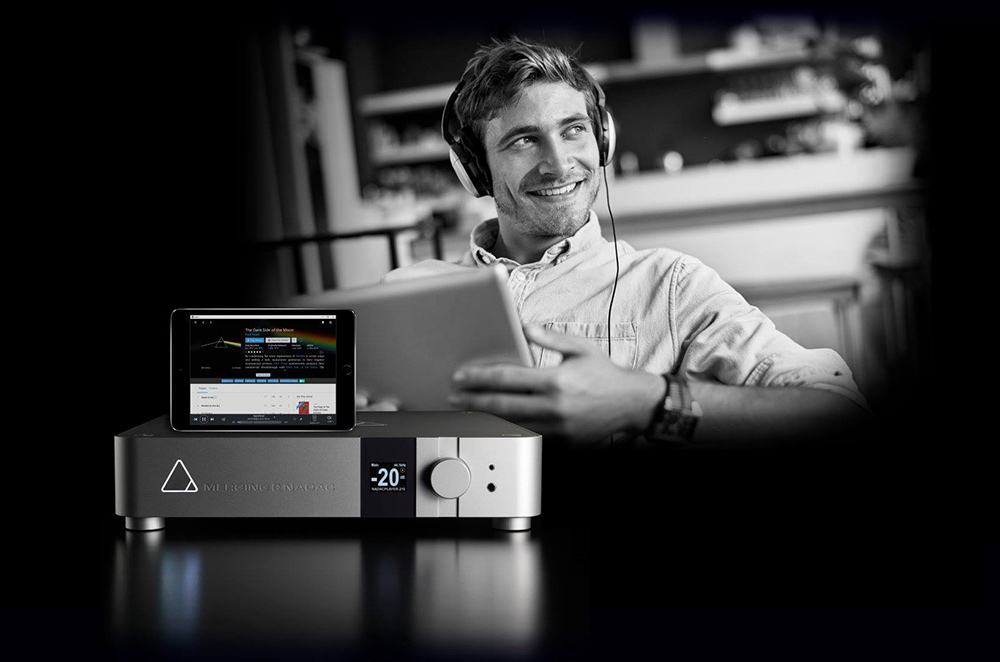 MERGING+PLAYER restores the concept of the audiophile music server and makes your life simple again. The combination of the best music player available and the best sounding DAC allows you to access your music library from a tablet and connect directly to your amplifier or listen on headphones with the purest sound ever. It doesn't get any simpler!
MERGING+NADAC, as a concept, challenged the convention of USB connection. RAVENNA is a far more efficient and qualitative connection standard and brings the flexibility of the network to your home audiophile installation. In the same vein and as a logical next step, MERGING+PLAYER challenges the convention of having a computer in your living room! The computer contributes nothing to the listening or the ergonomic experience of enjoying your music library, but hitherto, it has been the only way to run your favourite player software linking your high-resolution music files to your favourite DAC.
MERGING+PLAYER delivers a genuinely audiophile crafted turnkey solution while still enjoying the flexibility of regular updates, new features and new services offered by today's software applications. Remember what mobile phones were before becoming smartphones!
Merging is the expert in DSD, multichannel and mastering grade sound purity. The 27 Grammy® Award nominations for 2017 once again demonstrate the domination of Merging equipment in all categories. Roon offers unrivalled usability with regular enhancements; Roon's latest 1.3 version being the perfect example of how a simple update can revolutionize the pleasure of listening to your favourite music.
You can sit back and not just listen; you can discover all you want to know about the music, the musicians, the composer, concert dates and reviews and more. You can control your listening level, map your channels, check the dynamic range of your track, read the liner notes, organise your playlist or even equalise your room without using anything more than your Roon application.

MERGING+PLAYER uses all the same audio components and offers the identical audio quality to the original MERGING+NADAC which has received rave notices from every reviewer. Both are specifically designed to be connected directly to your amplifier or active speakers. The astounding quality of the digital level control removes the need for a preamplifier if you don't have to.
As the original MERGING+NADAC, MERGING+PLAYER still enables connection to any player, server or computer on the network and its AES, Optical and Coaxial SPDIF inputs allow other digital equipment to be connected. These are identical features to the original MERGING+NADAC but without the need to have an additional computer to access your music files. Simplicity itself!
As the original MERGING+NADAC, MERGING+PLAYER comes in two flavours, Stereo and Multichannel, now fully supported by Roon 1.3 !
Full specifications about MERGING+PLAYER and MERGING+NADAC can be found here: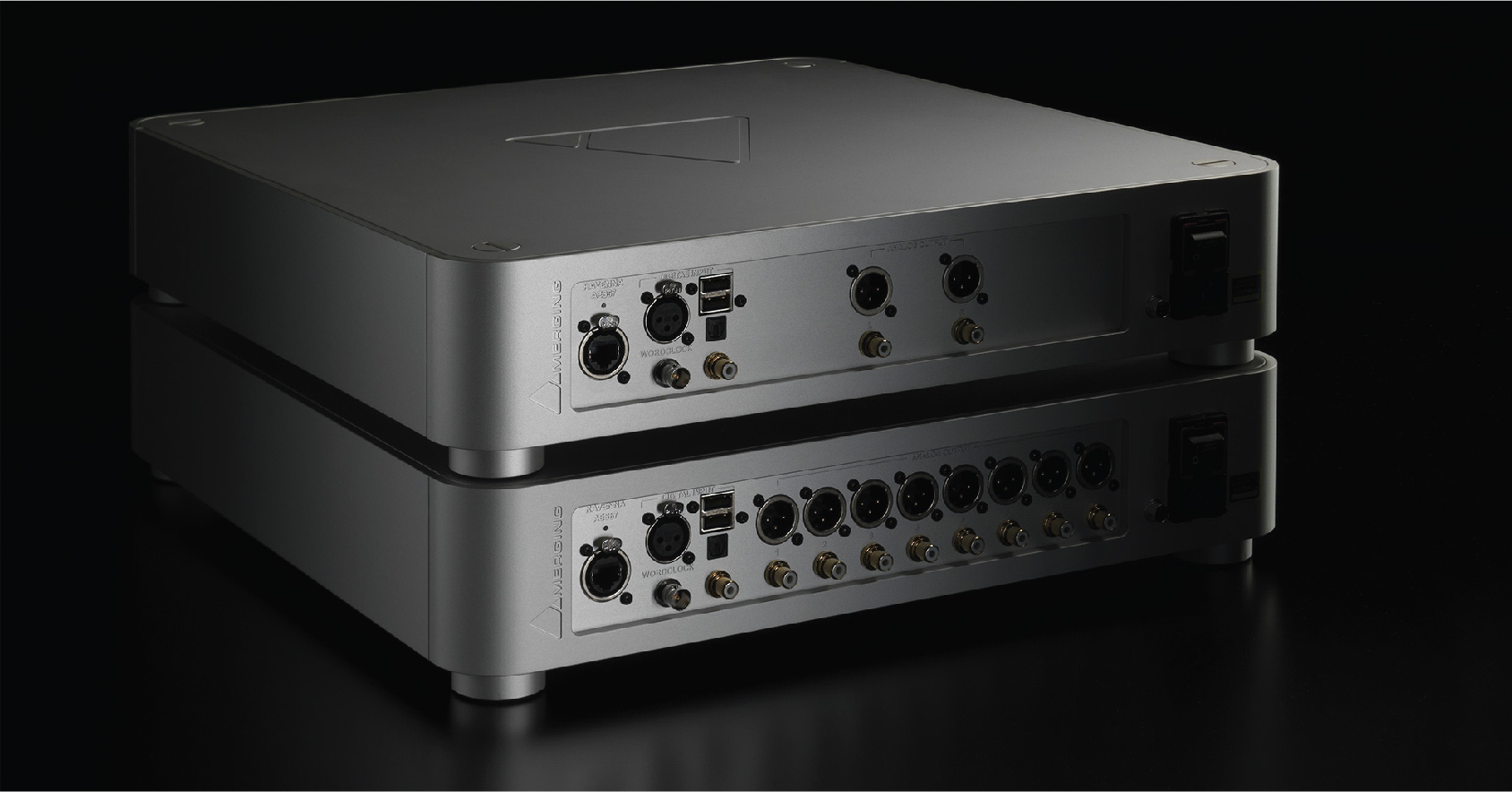 MERGING+PLAYER internal CPU runs RoonCore and is controlled by any Roon Remote on tablet, smartphone or computer.
MERGING+PLAYER easily connects to your home network to access your music library directly on any NAS or server. Additional or temporary music libraries stored on external drives or memory sticks can be connected on the back plate of MERGING+PLAYER on two dedicated USB ports.
MERGING+PLAYER requires to be connected on a Wifi router with access to the Internet, both to connect to your Roon Remote on tablet or smart phone and to the Roon Labs server for authentication, metadata access and additional services access such as Tidal or other services offered by Roon.
Configuration with your music library on a NAS:

---
Configuration with your music library on an external USB hard drive:

---

SPECIFICATIONS
FOR MERGING+PLAYER
---
MERGING+NADAC and MERGING+PLAYER share the exact same audio specifications and features as described below.
However MERGING+PLAYER enjoys an additional CPU that allows running RoonCore on Linux RoonOS and implements a Roon Endpoint. It connects internally through Ravenna to the MERGING+NADAC hardware and enjoys then the exact same characteristics and flexibility as an external computer running Roon.
MERGING+PLAYER is offered in two versions:
Stereo

The 8 channels of the ESS Sabre ES9008S Reference D/A converter are merged into 2 for improved linearity, greater dynamic range and a lower noise floor.
Multichannel-8

The 8 channel version can be set at any time to operate in 8 discrete channel mode, or stereo mode to enjoy the same advantages of merging 8 into 2 channels as the stereo version .
NO-COMPROMISE HEADPHONE OUTPUTS

Both versions have separate headphone outputs using the same method of combining the channels for uncompromised DSD/DXD listening on your favorite headphones.
Perfect Connectivity
---

Analog Outputs
8/2 Balanced on 3-pin male XLR
8/2 Unbalanced RCA Phono connectors
Separate headphone sockets with 1/4" jack and mini-jack ( when connected to a network, the headphones and main outputs may be driven by different source if required)
Digital Inputs
Ethernet (RAVENNA/AES67) on RJ45 connector. Accepts 44.1kHz – 384kHz PCM, DXD, DSD 64, DSD128, DSD256
Connects from the computer using standard ASIO on Windows and CoreAudio on Mac
Allows cable runs up to 100m on a single Cat5e or Cat6 cable, with possible repeaters, hubs or switches
Asynchronous communication. The MERGING+NADAC controls the rate at which the digital audio data is sent to the DAC, not the computer or the player
Ultra-precise communication clocking driven by the DAC…. Precision Time Protocol is at the heart of RAVENNA, ensuring a clock resolution of one nanosecond
AES/EBU on 3-pin female XLR connector (44.1kHz - 192kHz PCM)
SPDIF Optical on Toslink connector (44.1kHz - 96kHz PCM)
SPDIF Coaxial on RCA Phono (44.1kHz - 96kHz PCM)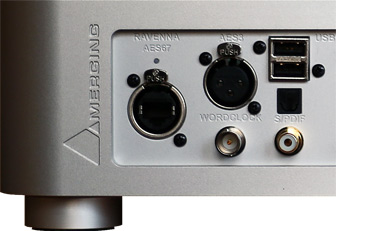 Additional Inputs
Word Clock Input. BNC connector
MERGING+PLAYER offers two additional USB ports to connect music libraries on USB drives or memory sticks and allow for maintenance and system recovery.
Perfect Ergonomics
---

Front Panel Controls
Volume adjustment using the front panel rotary control
Main output and the headphone output levels may be independently adjusted
Two headphone sockets for connecting any headphones without adapters
Headphones can listen to any available inputs, or external network sources
Intuitive Menus
Simple and ergonomic menu selected by the front panel rotary control
Easy source selection between the digital inputs and the computer sources available on the network
Intuitive menu hierarchy
Multilanguage user interface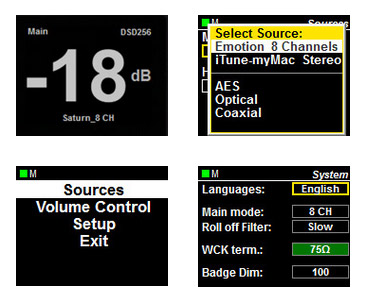 Universal remote control
Web based and iOS App remote control of menu functions and volume. Any web enabled smartphone, tablet or computer can control the listening level and the source selection of any MERGING+NADAC on the network. Apple iPad and iPhone can install the iOS NADAC app available on Apple App Store as well. This allows you to remotely control any MERGING+NADAC in any zones in your building with a unique remote control: your phone or tablet.
While also enjoying the above remote control features MERGING+PLAYER internal Roon Core can be controlled by any Roon Remote apps running on iPad and iPhone as well as Android devices, offering full volume and mute control from the Roon Remote app.

Outputs
Balanced Analog Output
Connector: gold-plated male XLR
Impedance: 40 Ohms
Max output level: 18 dBu (6.1 Vrms)
Multichannel dynamic range: 124 dB(A)
Multichannel THD+N @1kHz: -113 dB (0.00022 %)
Stereo dynamic range: 130 dB(A)
Stereo THD+N @1kHz: -116 dB (0.00016 %)
Unbalanced Analog Output
Connector: gold-plated RCA jacks
Impedance: 20 Ohms
Max output level: 8.2 dBu (2 Vrms)
Multichannel dynamic range: 120 dB(A)
Multichannel THD+N @1kHz: -113 dB (0.00022 %)
Stereo dynamic range: 123 dB(A)
Stereo THD+N @1kHz: -114 dB (0.0002 %)
Headphone
Connector: 3.5mm jack + 6mm jack
Impedance: 40 Ohms
Max output level: 14.4 dBu (4.0 Vrms)
Dynamic range: 123 dB(A)
THD+N @1kHz: -111 dB (0.00028 %)
Inputs
AES input
Connector: gold-plated female XLR
Input impedance: 110 Ohms
Sample rate: 44.1 kHz – 192 kHz
S/PDIF optical input
Connector: Toslink
Sample rate: 44.1 kHz – 96 kHz
S/PDIF coaxial input
Connector: gold-plated RCA jack
Input impedance: 75 Ohms
Sample rate: 44.1 kHz – 96 kHz
Network input
Connector: Neutrik EtherCon RJ45
Bitrate: 1 Gb/s (Gigabit Ethernet only)
Sample rate: 44.1 kHz – 384 kHz, DSD64, DSD128 and DSD256
WordClock input
Connector: BNC
Input impedance: 75 Ohms
Termination: 75 Ohms, software selectable
Sample rate: 44.1 kHz – 192 kHz
Misc
Enclosure material: Premium machined and anodized aluminium
Dimension: 435 W x 435 D x 95 H mm
Weight: 11 kg
AC voltage: 100V-240V/47-63Hz (IEC socket)
Power consumption: < 30W
Front panel display: OLED, 160x128 pixels, 16 bit colors
Superb measurements
---
Multichannel-8 Noise Floor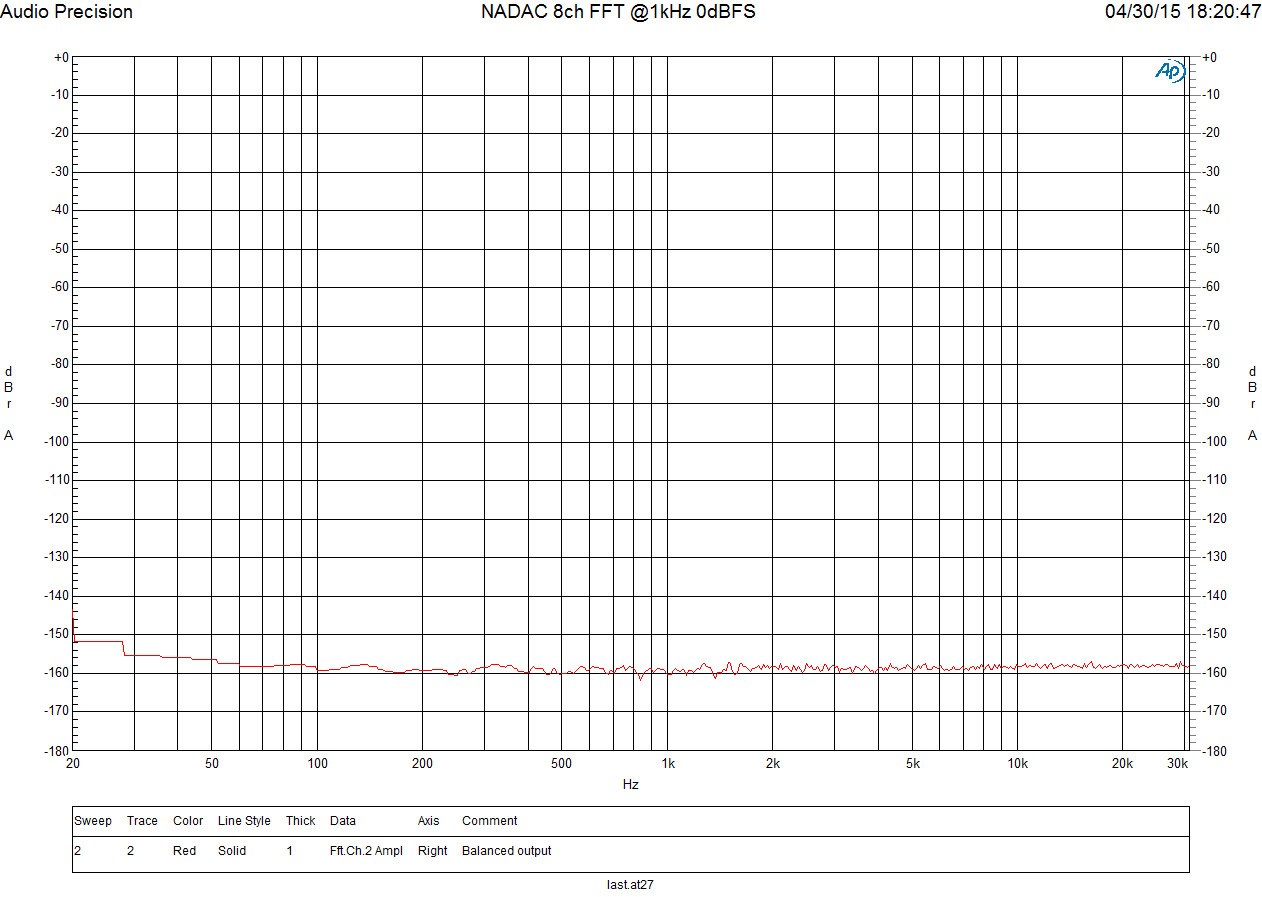 Multichannel-8 FFT @1kHz, 0 dBFS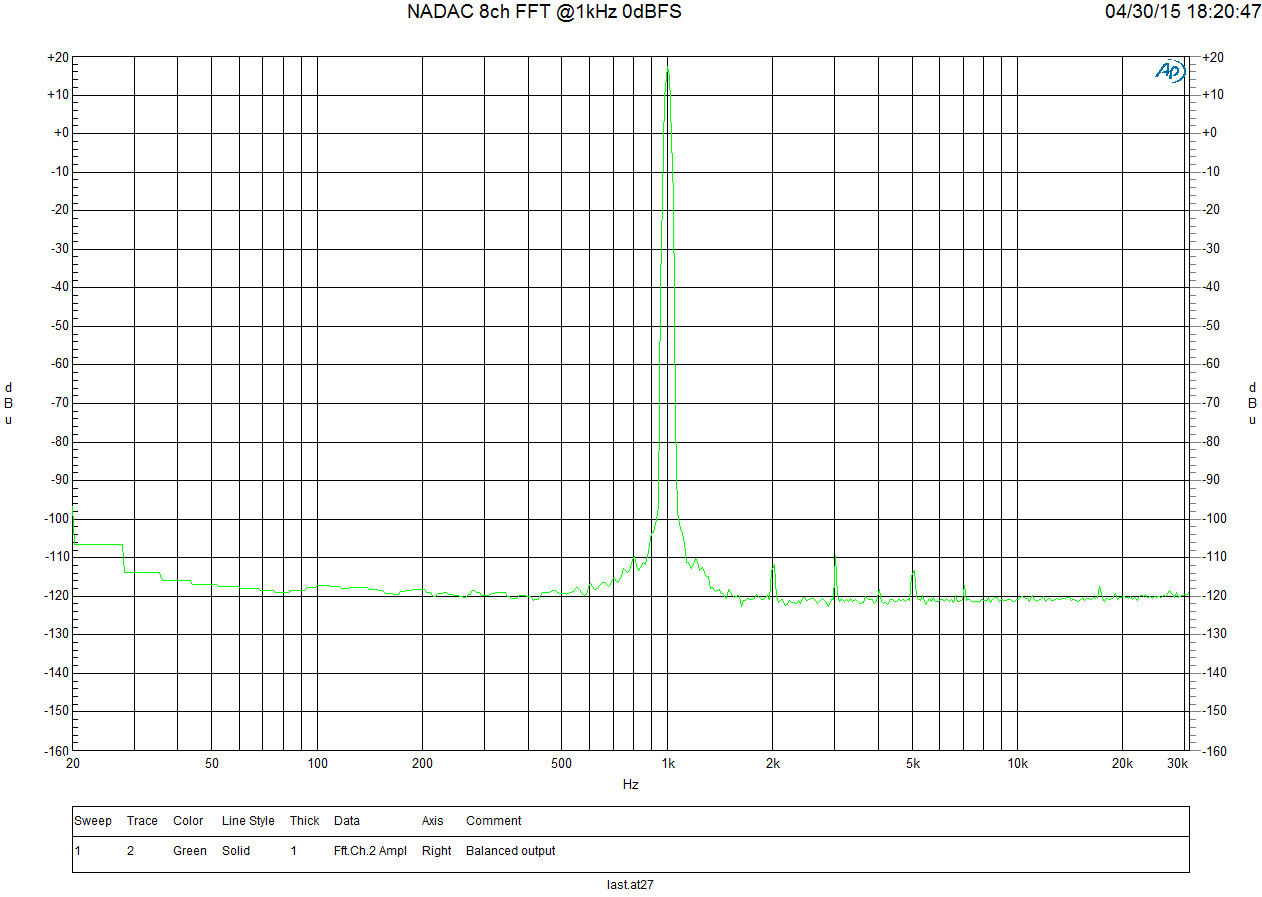 ---
---