---
NETWORKING
---
Network Attached Digital to Analog Converter
Nice acronym, but what is it all about? The modern world has become dependent on networks and the technology has been designed to be reliable and scalable. As the network capacities have increased, the possibility of using IP networks for video and audio became an obvious choice. Clearly Gigabit Ethernet had sufficient capacity for high quality audio but it was not optimal without an additional protocol adding the required precision and management. Merging needed to move away from the PCIe technology that had served us well for many years and we looked at alternatives that could offer sufficient accuracy and reliability with high channel counts and Hi-Res Audio data rates. Other IT based point-to point connections such as USB or Firewire were either not optimum or obsolete for audio even though other manufacturers had pressed them into service. There was only one choice that made sense: RAVENNA.
RAVENNA
This open and published IP network technology had been created to meet the demands of national broadcasters and focused on essential requirements of extremely accurate clocking, high resistance to packet loss and very low latency. Initially it did not encompass high PCM sampling rates and certainly not DSD. However, it was not difficult to make changes to allow that, so Merging worked closely with the developers to make sure that sufficient channels at up to DSD256 could be handled with an accuracy that exceeded anything previously available. It remains the only logical choice for the professional and the audiophile and is now available in MERGING+NADAC. The added bonus to using an advanced networking solution is being able to send and receive control information as well as audio data. This opened up exciting possibilities in the studio and now you can enjoy these same benefits in your own home.
COMPATIBILITY
The RAVENNA protocol comes with absolutely standard drivers for any computer operating system. ASIO for Windows, CoreAudio with DoP support for MacOS. As easily installed and configured as any other driver for USB or Firewire, the MERGING+NADAC RAVENNA driver allows use of any application of your choice to playback your music files, Emotion, JRiver, Audirvana, iTunes, etc... as well as any music server or streamer able to communicate through those standard ASIO or CoreAudio drivers.
NETWORK CONFIGURATIONS
---
So, what is this network story about and what does it allow for ?
Better that any pontificating sentences and technical explanations, some drawings will simply illustrate the most common applications and scenarios that can be achieved with MERGING+NADAC in a networked environment !
PEER TO PEER CONNECTION TO A COMPUTER OR SERVER
---
Just plug a cat5e or cat6 cable between the MERGING+NADAC and any computer, music server or streamer and send audio to the MERGING+NADAC from your favorite application through the standard ASIO or CoreAudio driver. As soon as the playback application is running on the computer it will appear in the MERGING+NADAC source selection menu, exactly like any internal digital input. Select it... et voilà!

REMOTE CONTROLLING MERGING+NADAC FROM ANY SMARTPHONE OR TABLET
---
If you use your MERGING+NADAC with a CD transport or any other device connected to the digital inputs, just connect your MERGING+NADAC to your Wifi hotspot to access it from any web browser like Safari, Internet Explorer, Chrome, etc... You can then control the main output level and the source selection.

THE MOST USUAL CONFIGURATION
---
Connect your MERGING+NADAC and your computer to the same switch or Wifi router and enjoy audio playback from that computer and remote control from any smartphone or tablet.

MULTIPLE NETWORK SOURCES
---
Any computer, music server or streamer connected to the network can be selected as an audio source for the MERGING+NADAC. Any playback application running on any of the computers will appear in the MERGING+NADAC source selection menu, exactly like any internal digital input. A different source can even be selected for the main MERGING+NADAC output and the headphone. As above all sources can be from different application, different operating system, different computer type.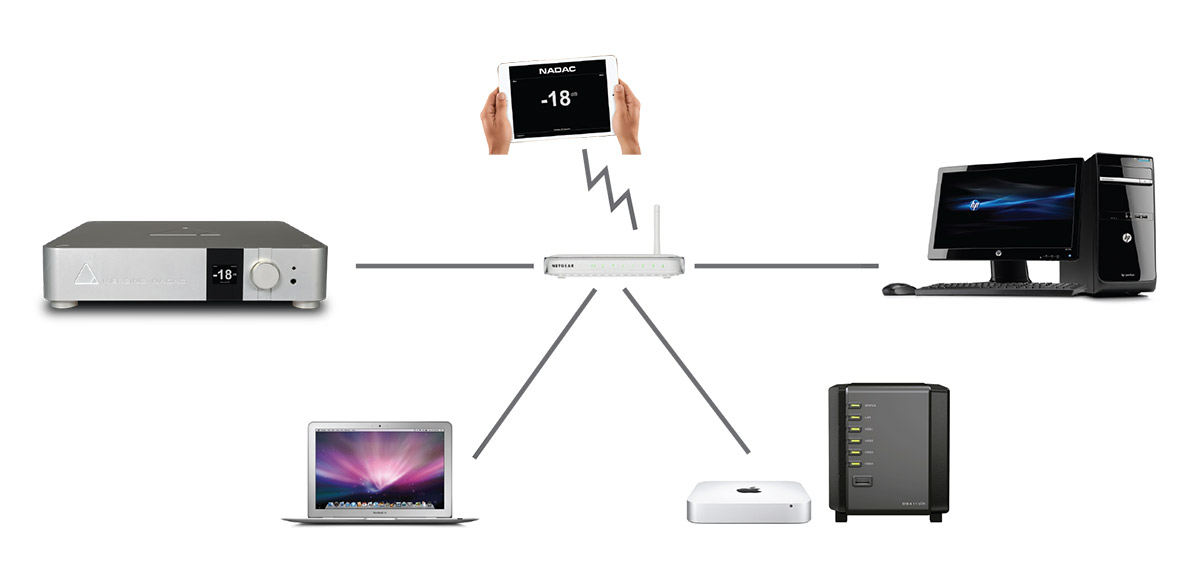 MULTI-ZONE
---
Multiple MERGING+NADAC can coexist on the network and can listen to the same source. Just select the same source on the front panel menu and you easily integrate a multi-zone system. Each MERGING+NADAC can however be independently remotely controlled with a different volume control.
MULTI-ZONE AND MULTIPLE SOURCES
---
As easy as the above examples, having multiple zones and multiple sources is as simple as plugging them on the network. Any MERGING+NADAC can listen to any source and all these devices can be accessed from a single tablet or smartphone.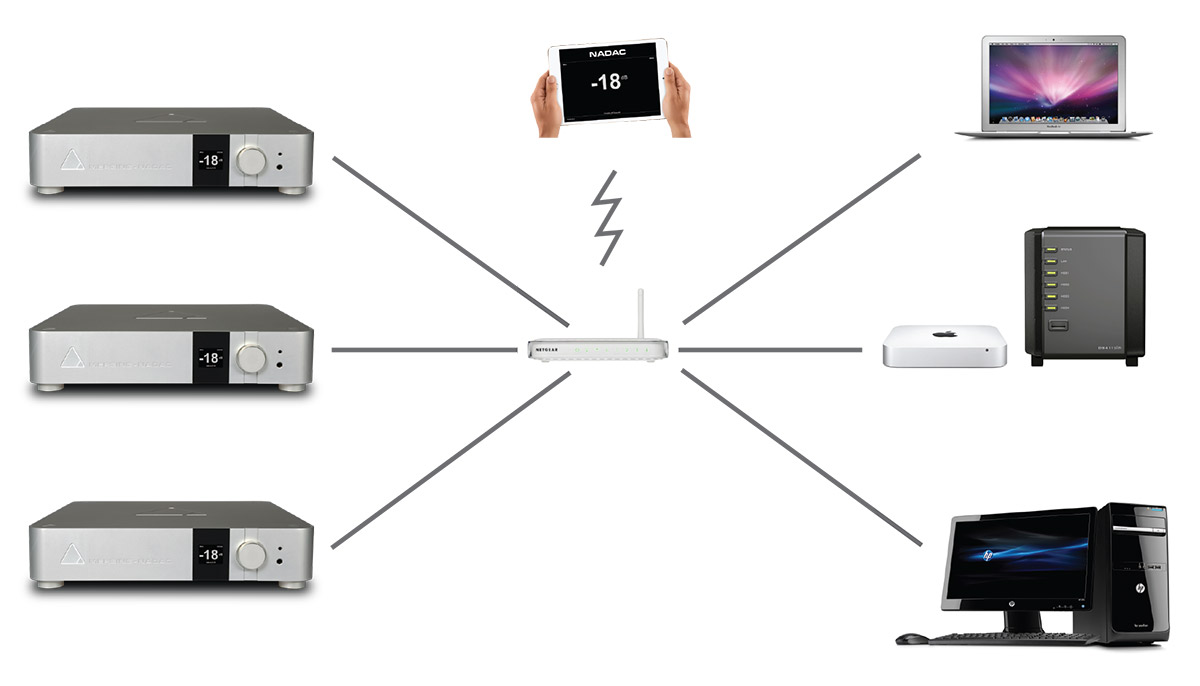 ---
---