---
MERGING+NADAC
Network Attached Digital to Analogue Converter
---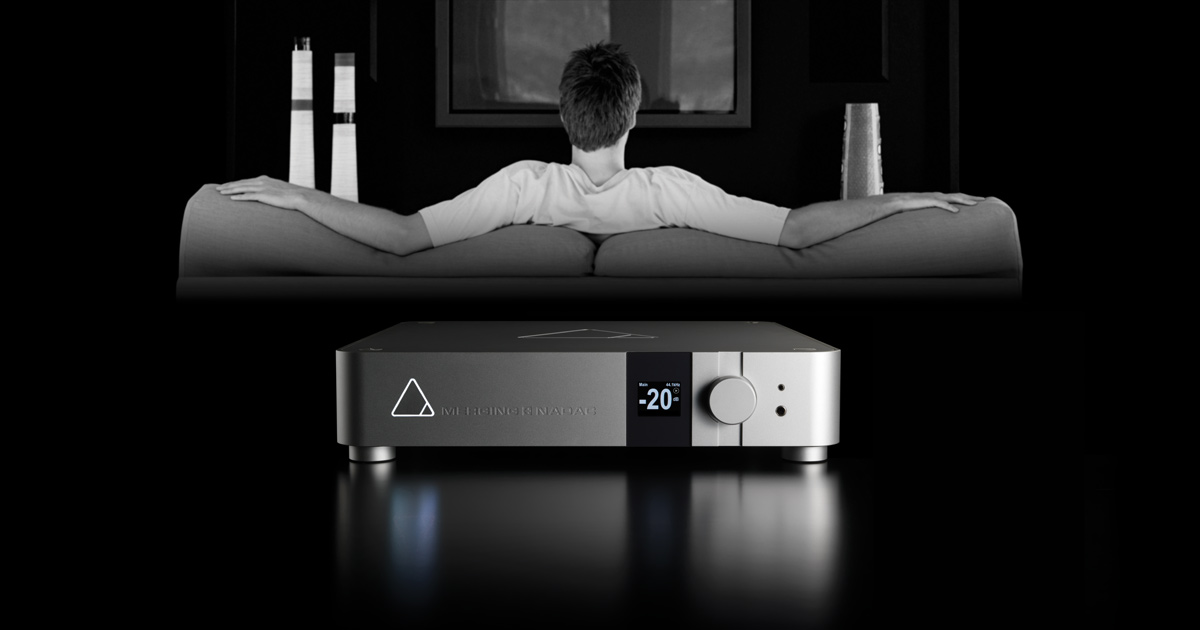 MERGING+NADAC was born out of the repeated request from Merging's mastering and recording engineer customers to provide a DAC for the audiophile market. This would be for their own customers, the music lovers, the high-resolution lovers, the purity lovers, a DAC able to reproduce the same experience, the same transparency they, as engineers, enjoyed in their studio when working on their Masters.
The universally acclaimed sound quality, transparency and precision of the Horus and Hapi professional converters was something these engineers were dying to offer to the people who were purchasing their music, their chef d'oeuvre.
We carefully listened and designed MERGING+NADAC based on the Horus and Hapi architecture and principle, but with a lot of improvements expected by the audiophile market, like channel summing, dedicated headphone DA, unique ergonomics and of course a superb aluminum chassis.
Not only did we deliver state of the art music listening in an audiophile environment, but also introduced some radical design enhancements to MERGING+NADAC, like tablet and smartphone remote control as well as some of the recipes which made Horus and Hapi such a great success and revolutionary in their own market. Most notably, the network audio communication through RAVENNA. You will find below some details about the benefits of this technology.
MERGING+NADAC has been immediately acclaimed and adopted worldwide and is now distributed in most territories. Please refer to our Sales section to find a distributor near you.
Many ecstatic reviews have been published confirming that MERGING+NADAC is definitely something special. Please refer to our News section to find a collection of rave reviews from many countries. Prestigious awards have also been a pleasant feature of the last year.
MERGING+NADAC also exists in a version embedding a complete music player enjoying the state of the art Roon user interface. Please check it here:
MERGING+NADAC and MERGING+PLAYER share the same superb audio specification and features. Please check them here:
Golden ears have told us that our components sound incredible, but we wanted to see if we could improve even more. So we built an external power supply: MERGING+POWER!
If you care about the ultimate fidelity, this is the magic ingredient to add to your MERGING+NADAC!
So, be prepared, this may not be a DAC for everyone and those just looking for flashy electronics or exaggerated sound artifacts should look elsewhere.
MERGING+NADAC is about transparency and purity!

You will get the music AS IT'S BEEN RECORDED AND MASTERED, period. Exactly as in the studio, exactly as it was intended by the engineers and producers, exactly, no less, but even more important, no more!



"Listening sessions with these masterpieces through the NADAC at near-concert levels have been some of my most thrilling listening experiences."

"Those qualities -- solidity of images, density of tonal colors -- were present in all the music I played through the NADAC."

"Seems that NADAC and Roon is a match made in Heaven:-)"

"I'm confident that it's really that good…it's the best that I've heard in DSD and high-resolution PCM/DXD DACs to date."

"I found the NADAC Multichannel-8 flawless. It provided some of the best sound I have ever heard in my home."

"This immediately made me sit forward on my chair. Even taking into account the fact that we were using an excellent demonstration system, the singer's voice was reproduced with great clarity, in an especially solid, three-dimensional form between the loudspeakers."

"Rendons à César ce qui appartient à César : je n'ai pas encore entendu une reproduction plus claire et plus détaillée de fichiers DSD que celle offerte par le Nadac utilisé en liaison Ethernet. Le niveau de transparence est exceptionnel."

"I was struck by the NADAC's extraordinarily vibrant, lucid, transparent, and highly three-dimensional presentation!"

"In fact, the NADAC did wonders with this track: Podger's instrument sounded like no mere facsimile of a violin. Instead, the sounds of the strings were so tangible that I felt I could reach out and wrap my hand around them. The highest frequencies were delicately rendered and sounded completely natural -- the antithesis of early digital. There were no hard edges, no overly crisp transients -- just beautiful sound."

"The honesty of the Merging device simply makes it seem like it is playing music totally unconstrained by the electronics."

"The opening notes were startling, I had the disturbing but exhilarating feeling that music was actually being made in my room, not merely reproduced."

"The sense of space around the singers, the extreme depth of soundfield, and the tonally meaty voices made this track super-enjoyable through the NADAC ST-2."

"Merging Technologies has brought the larger world of professional audio gear into our world of consumer high-end listening rooms, with all of the benefits thereof. I am listening to the results here at PF Central, and am deeply impressed. This is the real deal, setting a sonic performance benchmark that other DSD DACs will have to address."

"If you're getting the sense that the NADAC was easy to listen to, you're right."

"Only a tiny number of handful of digital devices I've heard manage to combine all those virtues without a significant downside."

"In terms of features, the NADAC is a next-generation device, replacing the USB connection that has become the standard way to connect a DAC to a computer system. Instead, the NADAC's Ethernet port, implemented in conjunction with an industry-standard software protocol (Ravenna), delivers network capability so that the NADAC can access music from a variety of computer-derived sources throughout the user's home. This functionality should easily become the new standard; I think it will replace USB as the de facto method for connecting computer devices to an audio system. It works great."

"I was taken aback by how natural the applause, whistling and other audience sounds were reproduced. The clarity and detail was as though the NADAC was being used with an external clock – although none was actually connected."

"The Merging NADAC has an important tale to tell audiophiles – it shows us that what the pros really work with is really good quality equipment, after all."

"Nec plus ultra. I have not heard a clearer and cleaner reproduction of DSD at all levels than that offered by the NADAC."
NETWORKING
---
Network Attached DIGITAL to ANALOG Converter
Nice acronym, but what is it all about? The modern world has become dependent on networks and the technology has been designed to be reliable and scalable. As the network capacities have increased, the possibility of using IP networks for video and audio became an obvious choice. Clearly Gigabit Ethernet had sufficient capacity for high quality audio but it was not optimal without an additional protocol adding the required precision and management. Merging needed to move away from the PCIe technology that had served us well for many years and we looked at alternatives that could offer sufficient accuracy and reliability with high channel counts and Hi-Res Audio data rates. Other IT based point-to point connections such as USB or Firewire were either not optimum or obsolete for audio even though other manufacturers had pressed them into service. There was only one choice that made sense: RAVENNA.
RAVENNA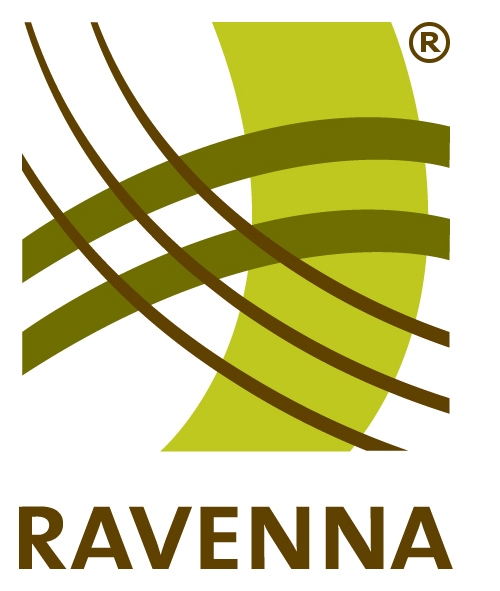 This open and published IP network technology had been created to meet the demands of national broadcasters and focused on essential requirements of extremely accurate clocking, high resistance to packet loss and very low latency. Initially it did not encompass high PCM sampling rates and certainly not DSD. However, it was not difficult to make changes to allow that, so Merging worked closely with the developers to make sure that sufficient channels at up to DSD256 could be handled with an accuracy that exceeded anything previously available. It remains the only logical choice for the professional and the audiophile and is now available in MERGING+NADAC. The added bonus to using an advanced networking solution is being able to send and receive control information as well as audio data. This opened up exciting possibilities in the studio and now you can enjoy these same benefits in your own home.
COMPATIBILITY
The RAVENNA protocol comes with absolutely standard drivers for any computer operating system. ASIO for Windows, CoreAudio with DoP support for MacOS. As easily installed and configured as any other driver for USB or Firewire, the MERGING+NADAC RAVENNA driver allows use of any application of your choice to playback your music files, Emotion, JRiver, Audirvana, iTunes, etc... as well as any music server or streamer able to communicate through those standard ASIO or CoreAudio drivers.
NETWORK CONFIGURATIONS
---
So, what is this network story about and what does it allow for ?
Better that any pontificating sentences and technical explanations, some drawings will simply illustrate the most common applications and scenarios that can be achieved with MERGING+NADAC in a networked environment !
PEER TO PEER CONNECTION TO A COMPUTER OR SERVER
---
Just plug a cat5e or cat6 cable between the MERGING+NADAC and any computer, music server or streamer and send audio to the MERGING+NADAC from your favorite application through the standard ASIO or CoreAudio driver. As soon as the playback application is running on the computer it will appear in the MERGING+NADAC source selection menu, exactly like any internal digital input. Select it... et voilà!

REMOTE CONTROLLING MERGING+NADAC FROM ANY SMARTPHONE OR TABLET
---
If you use your MERGING+NADAC with a CD transport or any other device connected to the digital inputs, just connect your MERGING+NADAC to your Wifi hotspot to access it from any web browser like Safari, Internet Explorer, Chrome, etc... You can then control the main output level and the source selection.

THE MOST USUAL CONFIGURATION
---
Connect your MERGING+NADAC and your computer to the same switch or Wifi router and enjoy audio playback from that computer and remote control from any smartphone or tablet.

MULTIPLE NETWORK SOURCES
---
Any computer, music server or streamer connected to the network can be selected as an audio source for the MERGING+NADAC. Any playback application running on any of the computers will appear in the MERGING+NADAC source selection menu, exactly like any internal digital input. A different source can even be selected for the main MERGING+NADAC output and the headphone. As above all sources can be from different application, different operating system, different computer type.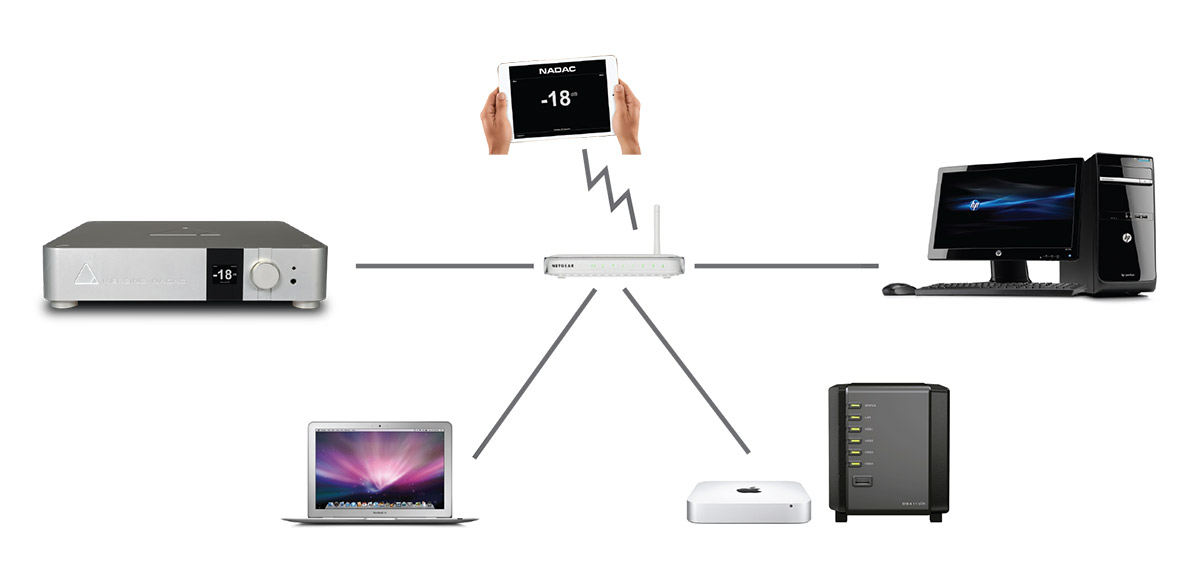 MULTI-ZONE
---
Multiple MERGING+NADAC can coexist on the network and can listen to the same source. Just select the same source on the front panel menu and you easily integrate a multi-zone system. Each MERGING+NADAC can however be independently remotely controlled with a different volume control.
MULTI-ZONE AND MULTIPLE SOURCES
---
As easy as the above examples, having multiple zones and multiple sources is as simple as plugging them on the network. Any MERGING+NADAC can listen to any source and all these devices can be accessed from a single tablet or smartphone.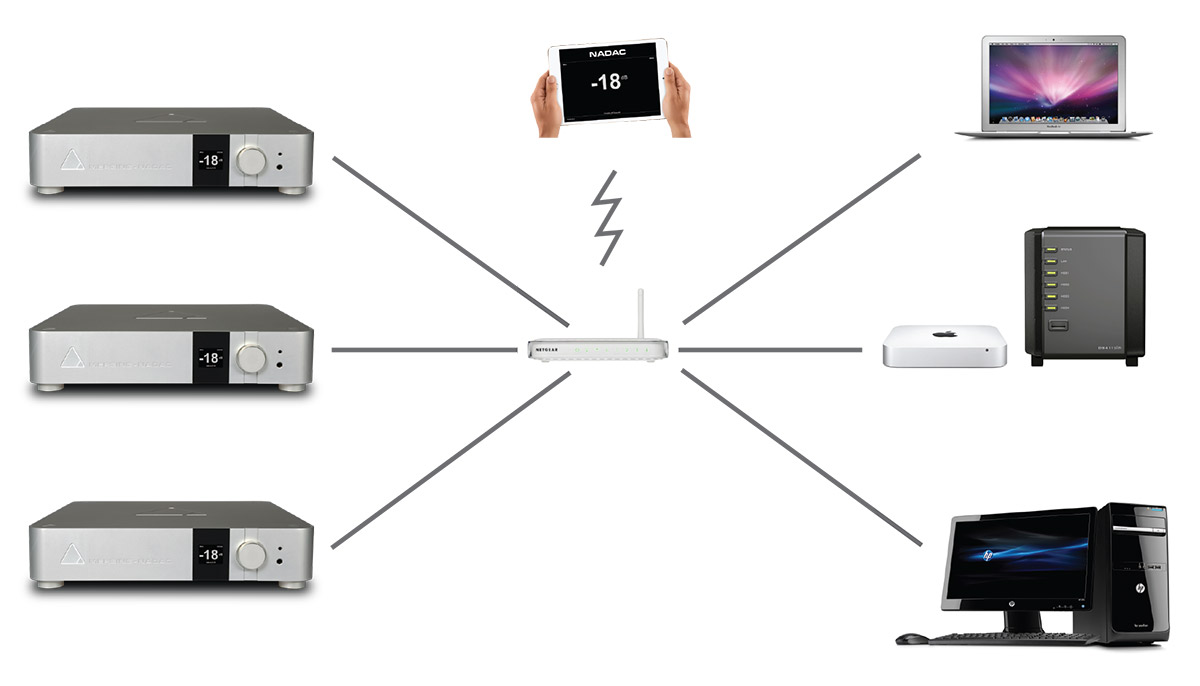 SPECIFICATIONS
FOR MERGING+NADAC
---
MERGING+NADAC and MERGING+PLAYER share the exact same audio specifications and features as described below.
MERGING+NADAC is offered in two versions:
Stereo

The 8 channels of the ESS Sabre ES9008S Reference D/A converter are merged into 2 for improved linearity, greater dynamic range and a lower noise floor.
Multichannel-8

The 8 channel version can be set at any time to operate in 8 discrete channel mode, or stereo mode to enjoy the same advantages of merging 8 into 2 channels as the stereo version .
NO-COMPROMISE HEADPHONE OUTPUTS

Both versions have separate headphone outputs using the same method of combining the channels for uncompromised DSD/DXD listening on your favorite headphones.
Perfect Connectivity
---

Analog Outputs
8/2 Balanced on 3-pin male XLR
8/2 Unbalanced RCA Phono connectors
Separate headphone sockets with 1/4" jack and mini-jack ( when connected to a network, the headphones and main outputs may be driven by different source if required)
Digital Inputs
Ethernet (RAVENNA/AES67) on RJ45 connector. Accepts 44.1kHz – 384kHz PCM, DXD, DSD 64, DSD128, DSD256
Connects from the computer using standard ASIO on Windows and CoreAudio on Mac
Allows cable runs up to 100m on a single Cat5e or Cat6 cable, with possible repeaters, hubs or switches
Asynchronous communication. The MERGING+NADAC controls the rate at which the digital audio data is sent to the DAC, not the computer or the player
Ultra-precise communication clocking driven by the DAC…. Precision Time Protocol is at the heart of RAVENNA, ensuring a clock resolution of one nanosecond
AES/EBU on 3-pin female XLR connector (44.1kHz - 192kHz PCM)
SPDIF Optical on Toslink connector (44.1kHz - 96kHz PCM)
SPDIF Coaxial on RCA Phono (44.1kHz - 96kHz PCM)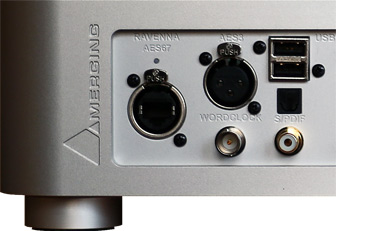 Additional Inputs
Word Clock Input. BNC connector
MERGING+PLAYER offers two additional USB ports to connect music libraries on USB drives or memory sticks and allow for maintenance and system recovery.
Perfect Ergonomics
---

Front Panel Controls
Volume adjustment using the front panel rotary control
Main output and the headphone output levels may be independently adjusted
Two headphone sockets for connecting any headphones without adapters
Headphones can listen to any available inputs, or external network sources
Intuitive Menus
Simple and ergonomic menu selected by the front panel rotary control
Easy source selection between the digital inputs and the computer sources available on the network
Intuitive menu hierarchy
Multilanguage user interface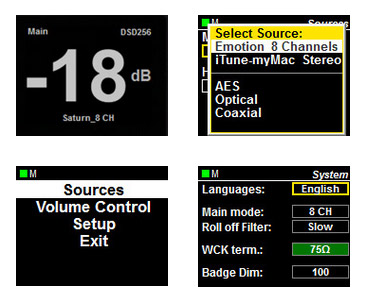 Universal remote control
Web based and iOS App remote control of menu functions and volume. Any web enabled smartphone, tablet or computer can control the listening level and the source selection of any MERGING+NADAC on the network. Apple iPad and iPhone can install the iOS NADAC app available on Apple App Store as well. This allows you to remotely control any MERGING+NADAC in any zones in your building with a unique remote control: your phone or tablet.
While also enjoying the above remote control features MERGING+PLAYER internal Roon Core can be controlled by any Roon Remote apps running on iPad and iPhone as well as Android devices, offering full volume and mute control from the Roon Remote app.

Outputs
Balanced Analog Output
Connector: gold-plated male XLR
Impedance: 40 Ohms
Max output level: 18 dBu (6.1 Vrms)
Multichannel dynamic range: 124 dB(A)
Multichannel THD+N @1kHz: -113 dB (0.00022 %)
Stereo dynamic range: 130 dB(A)
Stereo THD+N @1kHz: -116 dB (0.00016 %)
Unbalanced Analog Output
Connector: gold-plated RCA jacks
Impedance: 20 Ohms
Max output level: 8.2 dBu (2 Vrms)
Multichannel dynamic range: 120 dB(A)
Multichannel THD+N @1kHz: -113 dB (0.00022 %)
Stereo dynamic range: 123 dB(A)
Stereo THD+N @1kHz: -114 dB (0.0002 %)
Headphone
Connector: 3.5mm jack + 6mm jack
Impedance: 40 Ohms
Max output level: 14.4 dBu (4.0 Vrms)
Dynamic range: 123 dB(A)
THD+N @1kHz: -111 dB (0.00028 %)
Inputs
AES input
Connector: gold-plated female XLR
Input impedance: 110 Ohms
Sample rate: 44.1 kHz – 192 kHz
S/PDIF optical input
Connector: Toslink
Sample rate: 44.1 kHz – 96 kHz
S/PDIF coaxial input
Connector: gold-plated RCA jack
Input impedance: 75 Ohms
Sample rate: 44.1 kHz – 96 kHz
Network input
Connector: Neutrik EtherCon RJ45
Bitrate: 1 Gb/s (Gigabit Ethernet only)
Sample rate: 44.1 kHz – 384 kHz, DSD64, DSD128 and DSD256
WordClock input
Connector: BNC
Input impedance: 75 Ohms
Termination: 75 Ohms, software selectable
Sample rate: 44.1 kHz – 192 kHz
Misc
Enclosure material: Premium machined and anodized aluminium
Dimension: 435 W x 435 D x 95 H mm
Weight: 11 kg
AC voltage: 100V-240V/47-63Hz (IEC socket)
Power consumption: < 30W
Front panel display: OLED, 160x128 pixels, 16 bit colors
Superb measurements
---
Multichannel-8 Noise Floor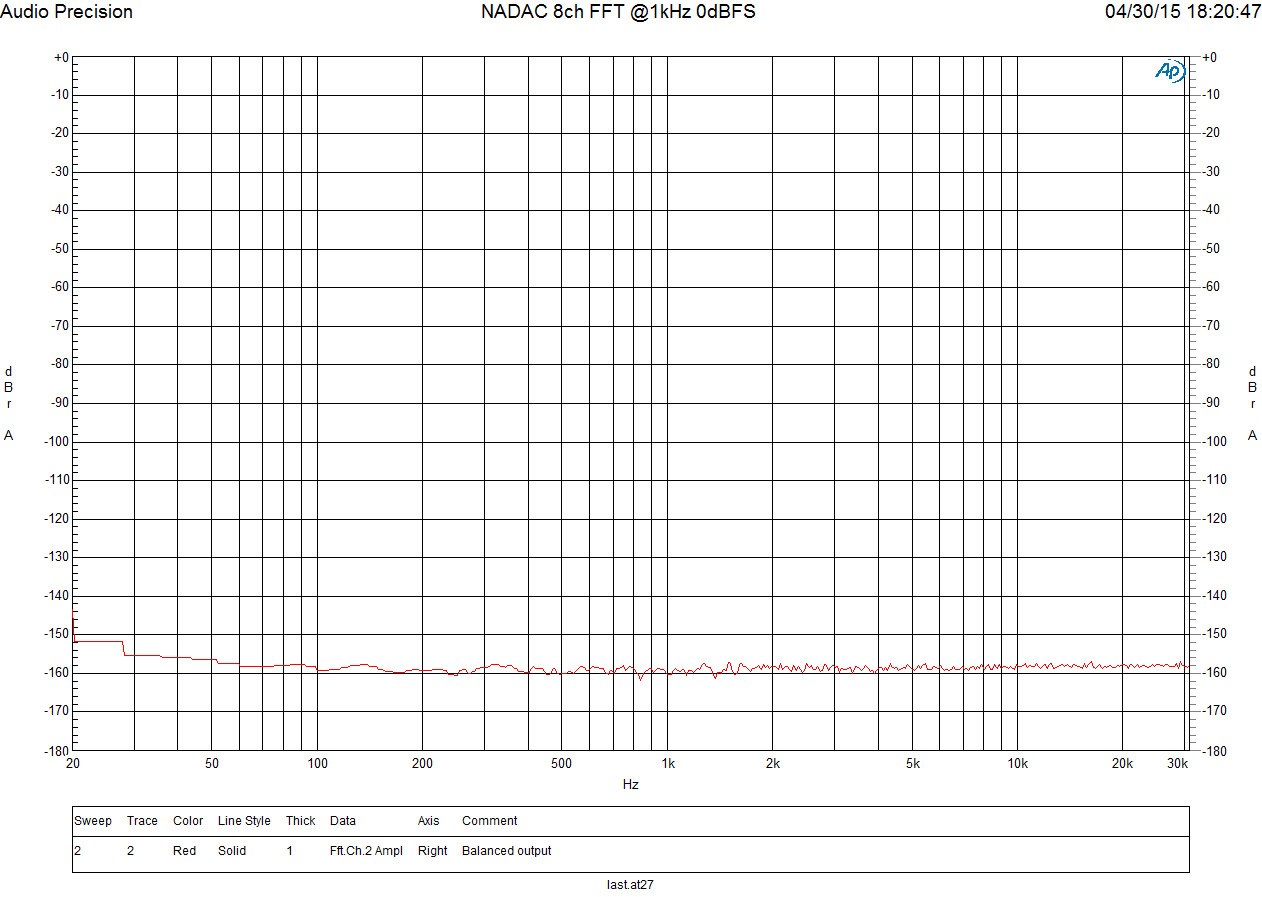 Multichannel-8 FFT @1kHz, 0 dBFS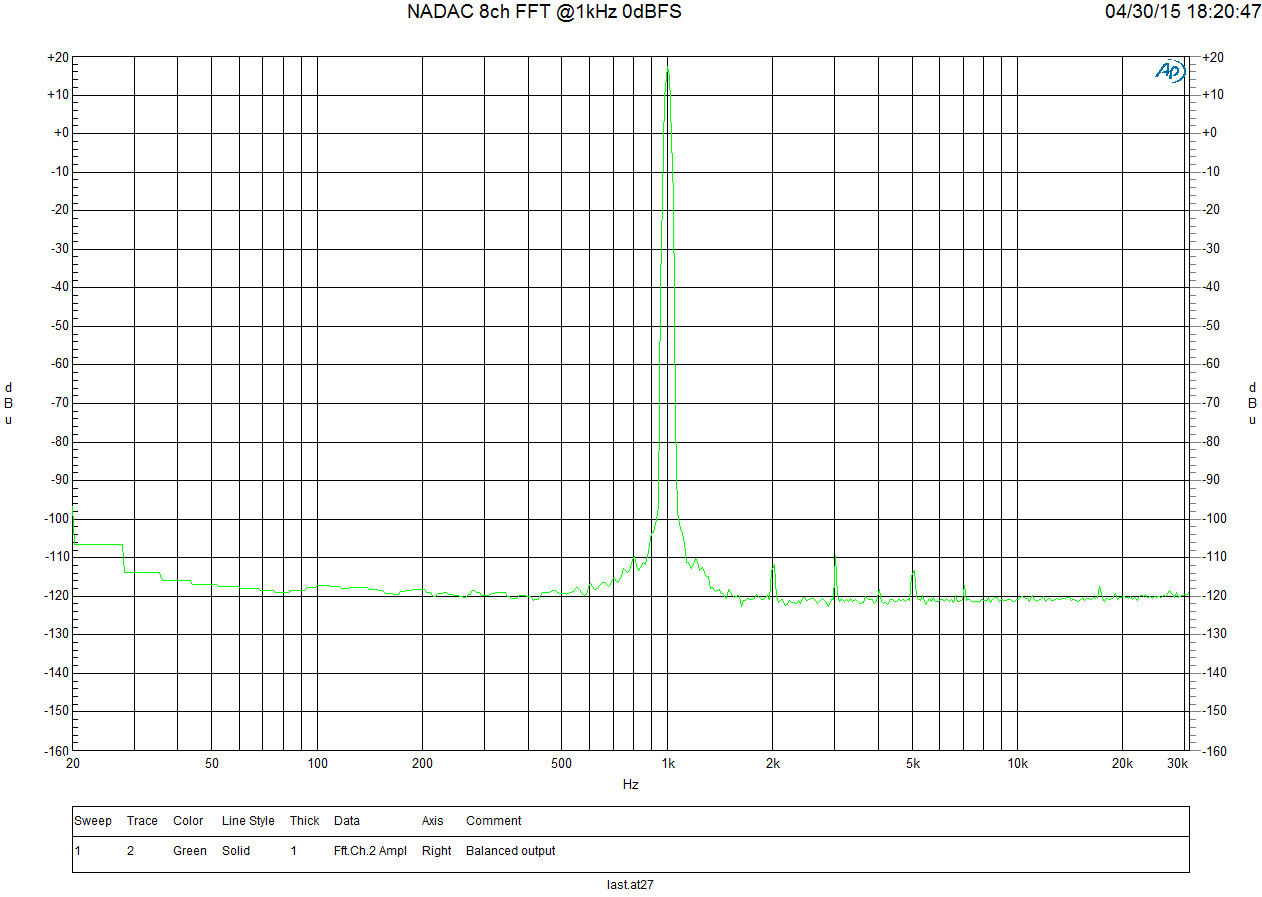 ---
---